THE CENTER OF THE
MANCHESTER'S LIFE
Mainly, Manchesters are one family and one-person dogs. The females especially seem to attach themselves to one particular family member, whereas the males are devoted to the entire family more equally. They want to be with their people. They will not thrive as kennel dogs or as dogs shunted outside away from family activities. They want to play with you, watch you eat, sleep with you, ride in the car with you, stick close to your side while you read or watch TV, watch you shower, help you dry off. Notice that the common denominator in their interests is YOU. If you do not have the time or interest to invest in them, then the Manchester is not the dog for you. They cannot thrive without their most important ingredient in life - YOU.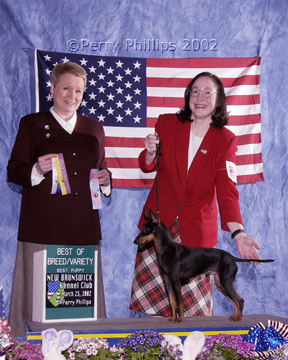 (Click To Enlarge)
Manchesters are extremely loyal and devoted. They will not just go off with anyone who pets or feeds them. They know who their people are! They know it is their job to protect you by utilizing their best watchdog function: lots of barking. They also realize that they should keep you entertained by stealing socks to hide under the bed; stealing and shredding napkins and paper towels; tugging at your pant leg when you walk across the room. And, they know you deserve a proper greeting when you return home, which includes jumping, dancing, whirling around in circles, barking, and licking. After all, you have been missed!
After an extensive search for the right breed for myself, and some mistakes on breed choices, I am convinced that the Manchester Terrier is one of the best-kept secrets around! I can't imagine my life without at least one Manchester. Perhaps you will be as captivated with this breed as I have been. Feel free to email me anytime for any advice or suggestions that I can give. There is no question too small or any hour too late for me to talk to you about Manchesters.
| | |
| --- | --- |
| Austen's first daughter - Tempest Laughter's The Best Medicine 'Cheer' going Best of Variety at the AMTC District 3 Specialty at the age of 10 months (Click To Enlarge) | Ch. Rosewood Sophisticated Lady 'Ella' (Click To Enlarge) |
HAPPY MANCHESTERING !!
Favorite Links:

Feel free to email me at paula@tempest-terriers.com.

· The Manchester Terrier as a Puppy
· Living with Your Manchester Terrier
· Health
· Home